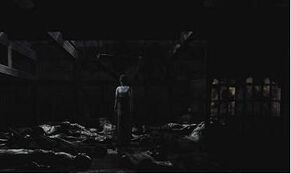 The Kurosawa House, or (黒澤家, "Black Swamp house/family") in Japanese, is a setting in Fatal Frame II: Crimson Butterfly. It is the home of the most influential family in All God's Village. It is also the largest structure in the entire village, akin to a mansion, and is the site of the village's most sacred rituals.
Description
Edit
The Kurosawa house is located at the northern point of the village, separated from the other areas of the village by a long bridge known as Whisper Bridge. It is in this house that Mio and Mayu Amakura discover the disaster that befell the village as well as their roles in freeing the village from the darkness.
Ad blocker interference detected!
Wikia is a free-to-use site that makes money from advertising. We have a modified experience for viewers using ad blockers

Wikia is not accessible if you've made further modifications. Remove the custom ad blocker rule(s) and the page will load as expected.