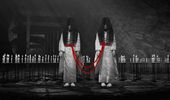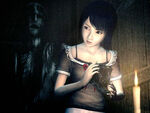 The
Fatal Frame
wiki that
anyone can edit
.
668 articles
since its creation
Note
:
Spoilers
are to be expected and may be unmarked.
This wiki covers disturbing and violent content and is intended for mature readers.
About • Manual of style • Rules and guidelines • Recent changes • Forum
WARNING: This site contains spoilers. Articles may or may not indicate spoilers.
Fatal Frame: Maiden of Black Water was launched on October 22, 2015 in America!!

See News column for details.
Like and follow Operation Zero's facebook page for more info. Sign this online petition for a physical release of Fatal Frame V. More 2.488 signatures needed to reach the goal.

Ayako Haibara is a hostile female spirit in Fatal Frame IV: Mask of the Lunar Eclipse. She was one of the many patients that suffered from Luna Sedata Syndrome.

She was being treated inside of Rougetsu Hall, a sanatorium built on Rougetsu Island specifically to attend to patients of Luna Sedata Syndrome. She is also one of the patients that knew the heroines of Fatal Frame IV during their stay in Rougetsu Hall. Ayako stood out from the other patients due to her homicidal tendencies, however, she eventually met her end when the disease could not be controlled and she finally bloomed.

01:28

Fatal Frame Maiden of Black Water E3 2015 Trailer

In your opinion, which was the most difficult battle in Fatal Frame III: The Tormented?

 

This poll will be closed and replaced by another poll on April 5.
See the results of past polls by clicking here.

To write a new article, just enter the title in the box below.

Not sure where to start?

Adding content

Talk and more...

Check out the community portal to see what the community is working on, to give feedback, ask for help or just to say hi.

In June 16 during the first day of E3 2015, Nintendo release a new trailer of Fatal Frame V, now under the official american title of Maiden of Black Water. American version scheduled to be release in fall of 2015.
The 10th fan-translated chapter of Fatal Frame 3: Rei Shisei no Koe is finally out. Read it here.
The 42nd fan-translated chapter of Fatal Frame: Shadow Priestess is finally out. Read it here.
The fan english subtitled of Japanese movie based on the Fatal Frame series can be watched here.
On February 1, 2015 Former Team Ninja member, current Valhala Game Studios member, Tomonobu Itagaki, has stated the following through his Facebook account: "Hey guys, I strongly believe that Kikuchi Keisuke will release the Fatal Frame V in America, in many countries. He and me have same philosophy from Tecmo days. That's what I can say for now. I want you guys to read between the lines.
Anyway I will play this game :)".

Sound from Fatal Frame III: The Tormented
Track - 15




Please take some time to read our updated policies

Did you know? There is a real life Himuro Mansion. It's located in the North eastern part of Japan. Just like in Fatal Frame, gruesome rituals were performed there and paranormal activity occurred as well.