Akemi Kanda (神田 朱未 Kanda Akemi?, born November 10, 1978) is a Japanese voice actress affiliated with Aoni Production.
Her major anime roles include: Asuna Kagurazaka in the 
Negima
 series, Kana Suouin in 
Otome wa Boku ni Koishiteru
, Misuzu in 
Gin-iro no Olynssis
, Kazuki Arisaka in 
Tona-Gura!
, Rihoko Amaha in 
Witchblade
, Miharu Amakase in 
Da Capo
, Tokino Akiyama in 
Kujibiki Unbalance
, and Nina Sakura in 
Ultra Maniac
. She also sings with the voice actors on songs for the anime shows and is associated with voice actor units Drops and Aice5, releasing multiple character and compilation albums.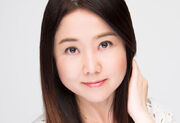 In video games she voices Estelle Bright in The Legend of Heroes: Trails in the Sky, Nanako Dojima in Persona 4, Mio Amakura in Fatal Frame II: Crimson Butterfly , and Melody in Rune Factory.
Ad blocker interference detected!
Wikia is a free-to-use site that makes money from advertising. We have a modified experience for viewers using ad blockers

Wikia is not accessible if you've made further modifications. Remove the custom ad blocker rule(s) and the page will load as expected.